Masters are a major demographic in our sport. They tend to carry the load as club volunteers, especially with coaching, fundraising and administration. However, the younger, competitive, elite rowers tend to grab a disproportionate share of resources and limelight. So isn't it nice to find information, events, and training dedicated to masters rowers. Here are our top ten resources which recognize and celebrate veteran rowers.
1. Best book
The title tells all. Inspirational and informative, Masters Rowing: Training for Technique, Fitness and Competition was published in 2021 by Volker Nolte and Wolfgang Fritsch. Volker is revered as an icon of the sport and a good, long-time friend of NK Sports. This is the definitive guide to successful aging, improving technique and fitness and training, whether preparing for competition, rowing for fitness or enjoying the pleasure and health benefits of the sport.
A full chapter focusses on boat rigging and equipment for masters. This is a topic that Volker feels is underappreciated. In the rush to get on the water, selection and set-up of appropriate boats and oars may not happen, diminishing the rowing experience and reducing the pleasure and training value. The cardinal errors often found in an uncomfortably rigged boat are:
Loading is too heavy
Footstretcher is too steep or too high
Oarlock heights are too low
Not enough pitch in the blade
Slides are too short
Check your crew's equipment and correct according to the recommendations in the book.
2.Best social media
Masters Rowing International is a Facebook group moderated by Rebecca Caroe. Membership currently clocks in over 18,700 and continues to grow. The group mandate sounds remarkably like our favorite book.
Dedicated to promoting all masters rowing. Join to exchange training ideas, technique tips, drills and to find rowing clubs to join or visit overseas. Discuss how to stay fit for performance, how to race better and how to stay healthy through rowing for decades to come.
Posts vary greatly. Connections for guest rowing while traveling are sought. Photos are shared of where members row, especially with a sunrise or sunset backdrop. Advice is sought on technique, equipment and club administration. Some of the posts are very serious, while others are just plain fun, such as images of Christmas ornaments featuring rowing. Even books are discussed. One member posted about Lessons in Chemistry by Bonnie Garmus, saying "A delightful read for many reasons, including the spot-on description of why rowers are so loathed at social gatherings."
There are dozens of other Facebook groups for masters rowers, most for geographic areas, whether a country, a state or a community or club. Connect globally with Masters Rowing International and then seek local social media to connect with other masters rowers.
3. Best podcast
Entertaining and educational, all rowing podcasts cover topics relevant to all rowers including masters rowers. Only one is dedicated to our demographic, Faster Masters. Rebecca Caroe is also behind this project along with Marlene Royle. The podcasts cover topics ranging from limits of masters rowing, seasonal transitions in training and whether weight training delays death. The answer is yes, weight training is definitely recommended. Two of our other favorite podcasts spring from the creative minds of masters rowers. Ready, Row! USA host Charlotte Pierce samples the range of American rowing, including Para rowing, diversity in rowing and training tips from the great Jim Dietz. "Disrupting the popular yet limited narrative about rowing culture" is the tagline of Steady State Network podcast, founded by Rachel Freedman and Tara Morgan. Hour long in-depth conversations explore an expansive array of rowers, coaches, and coxswains, many of them masters.
4. Best online training
This one is tougher. Having read our favorite book, you know that ideally masters rowers do not attempt a training program designed for 17-year-old youth. Faster Masters sells training programs on their website and shares pertinent information. Most online rowing training websites and programs recognize the difference that age makes. Will Ruth focuses on strength training and has at least one post dedicated to older rowers. Through his YouTube channel you can view videos of presentations from conferences. Ludum, specializing in athlete management software, performance analysis and training data collection gave a nod to training as a masters rower in a blog post by Marlene Royle. She steps through each decade and what to expect from rowing as you age. Balance and flexibility are key.
Physical training is one thing, but mental training is also important for athletes of all ages. Reba Knickerbocker addresses the masters rowers' mindset with Bend The Blade, a website of information and inspiration. Although not currently active, the blog offers many thoughtful topics, for example one that encourages rowers to be curious and how it can benefit your rowing, training and racing.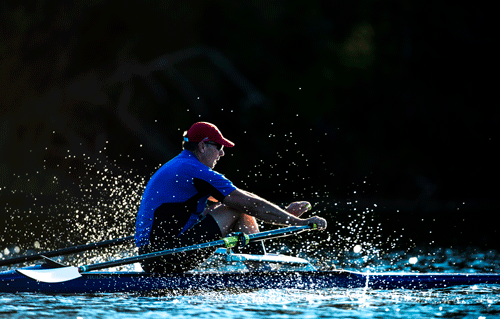 5. Best rowing camp
There are camps just for juniors, camps for aspiring coxswains yet very few uniquely for masters rowers. Not to worry. When you arrive at a camp like Craftsbury in Vermont, you fellow participants are almost without exception going to be in the masters category. Steering UWright specifically separates camps into those for youth and those for masters. Looking for other options including international destinations? Do a google search, but the most thorough listing is with row2k.com.
6. Best event
The gold medal must go to the World Rowing Masters Regatta (WRMR). This is one of the world's largest regattas, held in a different venue every year. In 2022 Libourne, France hosted over 3,500 athletes from 49 countries. The 2023 edition will be in South Africa with Germany hosting in 2024 and Spain in 2025. Honorable mention goes to the national championships of various rowing nations, including USA, United Kingdom, Canada, Australia and New Zealand. The Euro Masters Regatta is returning to Munich in July 2023.
If you are one of the many masters rowers who does not race or also enjoys non-competitive events, rowing tours offer rowing vacations in beautiful destinations. We are not aware of any tours which are exclusive to masters, but this demographic has the time and the money to travel to row.
7. Best multinational rowing club
Most rowers belong to a club. A small number of masters rowers belong to a virtual or international club for masters rowers. These are groups who go to the WRMR on a consistent basis. It is a hard decision to designate one as the best, but we will single out Masters International for their enthusiasm and colorful t-shirts if for no other reason. Other clubs are Avalon, Chinook and Masters Coaching.
8. Best support from a rowing federation
If you are British and older than 27, you are in luck. British Rowing has a committee dedicated to masters, or veterans as they used to be called. Available only to members of the federation is access to the Plus resources. There are several series, one of which is dedicated to masters rowers. Might be worth the 32.50 £ membership fee, plus you would be able to race in their annual masters regatta.
9. and 10. Overall best resources for masters rowers
You and your rowing friends. The good thing about aging is that you gain wisdom and knowledge over time along with your diverse experience. You and your crew know more than you might believe. Share your experiences. Ask questions, seek answers locally. Connect with the worldwide network of masters rowers. You are in the right place.